request our CUSTOM SERVICE
WALL DECALS, MURALS, WALLPAPERS : YOUR WALL DECOR ON-DEMAND !
In addition to our wide range of wall decor, this service gives you the most custom options. We can adapt our wall decals, wallpapers and giant murals to your needs and ensure you are happy with everything from the design, color and even the sizing !
You would like to receive a design bigger, for an exact size space, add your own text, your kid's name, more colors, use specific Pantone/RAL numbers, invert a design, modify some details and even ask for unique characters, an original full decor or theme designed by E-Glue ? Feel free to contact us ! We will do our best to meet your expectations.
Our gallery of completed custom projects can give you some ideas.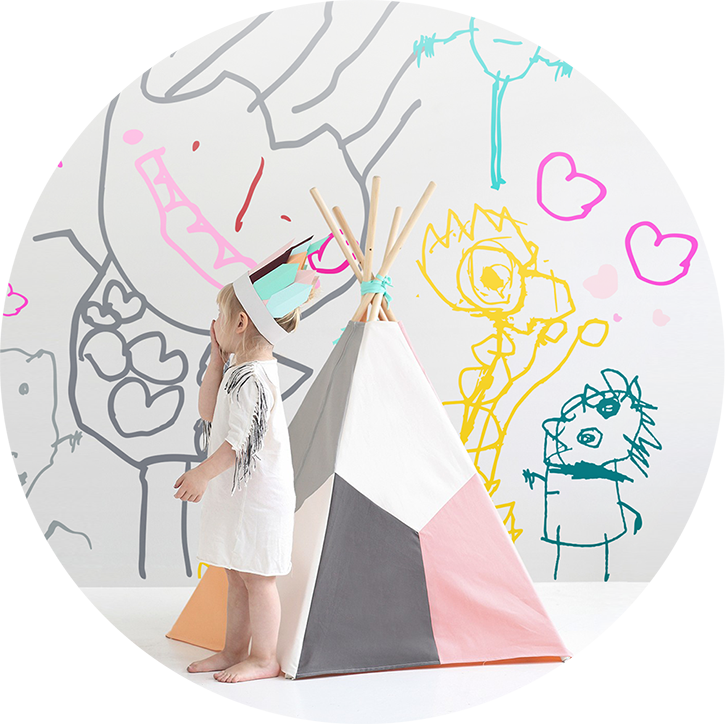 ARTIKIDS : YOUR KIDS DRAWING INTO WALL DECORATION (WALL STICKERS OR WALLPAPER MURAL)
Talent has no age ! Give some of your child's drawings the highlight and place they deserve, somewhere else than on the kitchen fridge.
Artikids is a unique custom service that lets you duplicate and enlarge your kiddie's masterpieces into amazing wall decals or wallpaper murals for decorating their room.
That's easy. Send us the original artwork (preferably outline drawings with broad felt-tip pens) with your comments and suggestions of colors, sizes, etc... Then, we will quickly reply to your message with a quote.
Now, kids have no fear to express themselves on the walls of their rooms, get creative to display their graphic designs and own characters !